Mike Lyons
Composer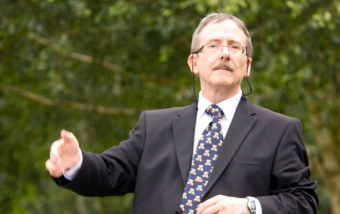 ---
Composer and arranger Mike Lyons was born in 1956 in Bolton, north west England. He went to Thornleigh Salesian College. While he was there, he was under the care of Father Jock McGovern, who Mike credits with influencing him to become an Eb bass player.
Aged only 13, he joined the Eagley Mills Band, as it was then known. Here he flourished as a player and became a keen soloist.
After he left his education, he did a stint in the army. Following this, he gained a place at Manchester University, where he achieved a combined music and maths degree. He then went on to study for a Post Graduate Certificate in Education (PGCE) at Didsbury. He was then appointed as a music teacher in the Wigan area. Even while he was at university, Mike still ran brass band groups and he has always encouraged his students to play brass band instruments in the schools that he has taught in.
Mike Lyons has a love of music, which has always been there from an early age and he has over 45 years' experience as a tuba player. His banding playing credits over these years include Eccles Borough Band, Orrell Silver Band, Eagley Band and Old Hall Brass Band. He re-joined Eagley in 2008 and also returned to Old Hall Band in 2016. The band at the school in which he used to work, has won prizes at Wigan Festival.
Mike has arranged many pieces for school bands, brass bands and also woodwind bands too. He has also added choral music to his repertoire. Now retired after a long and distinguished teaching career, he now spends his time singing, arranging, playing and composing, mostly a range of brass band music, but also for ensembles and other instruments as well. Some notable compositions are, The Blessing for brass quintet, Punctus Contra Punctus for brass quartet, as well as arrangements, Kyrie Eleison and Locus Iste both for brass quartet and many other arrangements for the Rising Stars Series for Devilish Publishing.